May is Hess Trucks 'Built For Speed' Month!

Go Fast!  The Indy 500 is not the only fast place on the planet during the month of May.  Hess Trucks celebrates May with a 'Built For Speed' selection of Hess Toy Trucks on sale.
First up is the 2009 Hess Race Car and Racer. As sleek as a Lamborghini, the 2009 Hess Race Car and Racer is a stunning work of precision and speed! Elegant lines and wide tires are just the beginning of surprises under the hood of this Hess Toy wonder! Now on sale!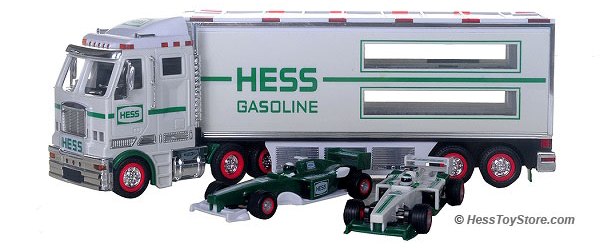 Go Big! Next up, 'go big or go home!' It's the 2003 Hess Truck 18 Wheeler Rig with 2 sleek Indy Style Racers on board. Amazing detail, sleek Indy Racers, and an 18 wheeler with awesome chrome accents and numerous lights. On sale!

Go Home!  Bring home a classic Hess Truck collectible with the 1997 Hess 18 Wheeler with 2 friction powered racers. Plenty of chrome accents and a unique see through trailer carrying the race cars. Now on sale!
Buy 3 Get 1 Free! Buy all 3 of the May Featured Hess Trucks and Racers and we will send you a Free Bonus Truck. Click here for details.