Summer Sale! Take 10% Off Your Order or Get a 2013 Hess Truck For Half Price!
For a limited time (OFFER EXPIRES AUG 15)  this Summer shop for Hess Trucks and save! We have 2 featured Summer Sale Specials for you.
1.  Save 10% on any Hess Truck or Hess Mini Truck:  Use coupon code SUM10 at checkout.  This coupon expires August 15, 2016. No minimum purchase required and you can use it on SALE items as well! Only 1 use per customer. Cannot be combined with any other coupon or offer.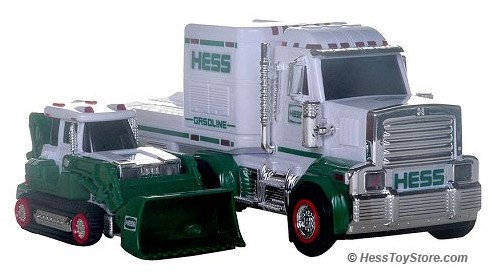 2.  Get A 2013 For Half Price: Add a Brand New 2013 Hess Truck & Tractor for half price when your Hess Toy Store order totals more than $100. Use coupon code 2013HALF at checkout.
The Hess Toy Store Buy 3 Get 1 FREE Sale!
Remember our Buy 3 Get 1 FREE special is still active.  Buy any 3 Hess Trucks and Get a FREE Hess Truck.  For details on this offer CLICK HERE.