Buy Hess Gift Certificates
Want to purchase a gift certificate for someone? Click Here to see our selection!  You receive a colorful gift certificate with a redemption code mailed to you or directly to your gift recipient with a "Just For You" Jackie's Hess Toy Store Special Occasion Card. Choose gift certificate denominations from $10 to $500.  

Perfect for birthdays, Christmas holidays, anniversaries, for employee recognition, or one of those, "just because" special occasions!  
Shop now
.
How To Redeem Your Hess Gift Certificate
If you already have a Hess Toy Truck Gift Certificate, this is where you come to redeem your gift certificate.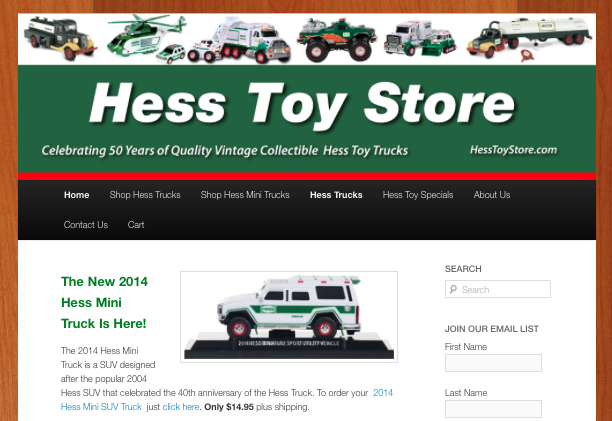 1.  Start shopping! Go to Jackie's Hess Toy Store to do your shopping. Add to your cart all of the items that you want. 2. Checkout to get your total. Go to checkout so you can get the total price from your cart, which must include any shipping and handling fees. Once you have this total amount  go here to redeem your Hess Gift Certificate. 3.  Redeem Here!  Please fill out the online gift certificate redemption form below.  Include the items you have selected, total price with shipping, and your Hess Gift Certificate code.  We will send you a PayPal invoice for the difference, or give you a store credit if the amount is less than your certificate value.
Hess Gift Certificate Redemption Form