The New 2014 Hess Truck Will Celebrate 50 Years of Quality Toy Truck Design  
The full size Hess "Winter Truck" as it is called, is coming later this year.  This will be a big deal because this is the 50th anniversary of the Hess Toy Truck.  This significant milestone in toy making will not go unnoticed by Hess Toy Truck collectors worldwide.  We expect to sell out within the first 2 weeks after its release.
If you want to be on our First Alert group to receive notification on the release date, be sure to add your name to our email list on the top right corner of our home page under the Search box.
The build up! In order to be ready for the mid November release of the 2014 Hess Truck, Hess Corporation has been in the design and planning phase for well over a year.  And, by now, production is underway building the new 2014 Hess Toy Truck.  Typically production is in full swing during the Spring and Summer in order to build up the inventory to meet the demand during the 2014 holiday season.
So what will the 2014 Hess Winter Truck look like? What will it do?  I only wish I could be a  little elf and sneak on the toy factory floor today and take a peek!  Will it be a retro homage to the original 1964 Hess Truck, or a sleek high tech toy set like the 2010 Hess Truck and Jet, or will it introduce a whole new category of Hess Toys for the next generation? With this being the 50th anniversary edition of this toy, you can only imagine that expectations are running high.
Hess Trucks keep getting better. What we do know is that the Hess Truck has evolved over the decades and become increasingly more complex and functional.  A far cry from the very first Hess Toy Tanker truck that launched this successful series in 1964.
Evolving innovations. In 1988 the Hess Toy Truck added an accessory vehicle in addition to the main truck.  Then innovations continued in the electronics adding an exciting array of lights, sounds, and active toy motions in succeeding years.  Recent editions have added interactive features that include links to online Hess Toy Truck games and apps.
We think that the 2014 Hess Toy Truck will be amazing!  Stay tuned and we will send you updates as we learn more about what's in store for Hess Toy Collectors come November 2014.
What do you think the 2014 Hess Toy will be?  Share your ideas below!
The son of one of our readers posted one of the most creative and interesting concepts I have heard yet: A Hess Street Sweeper! With a snow plow!  You gotta love it. That would definitely be a Hess first!  It was so cute and clever that I had my graphics guy come up with the concept below.  What's your idea?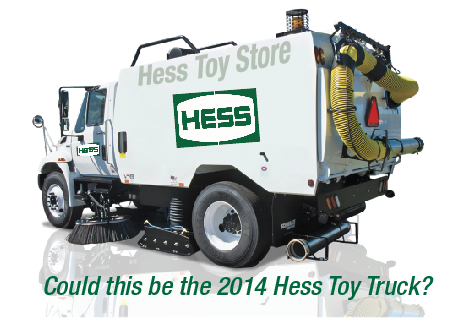 Related posts: